Welcome to Mt. Carmel Rehabilitation and Nursing Center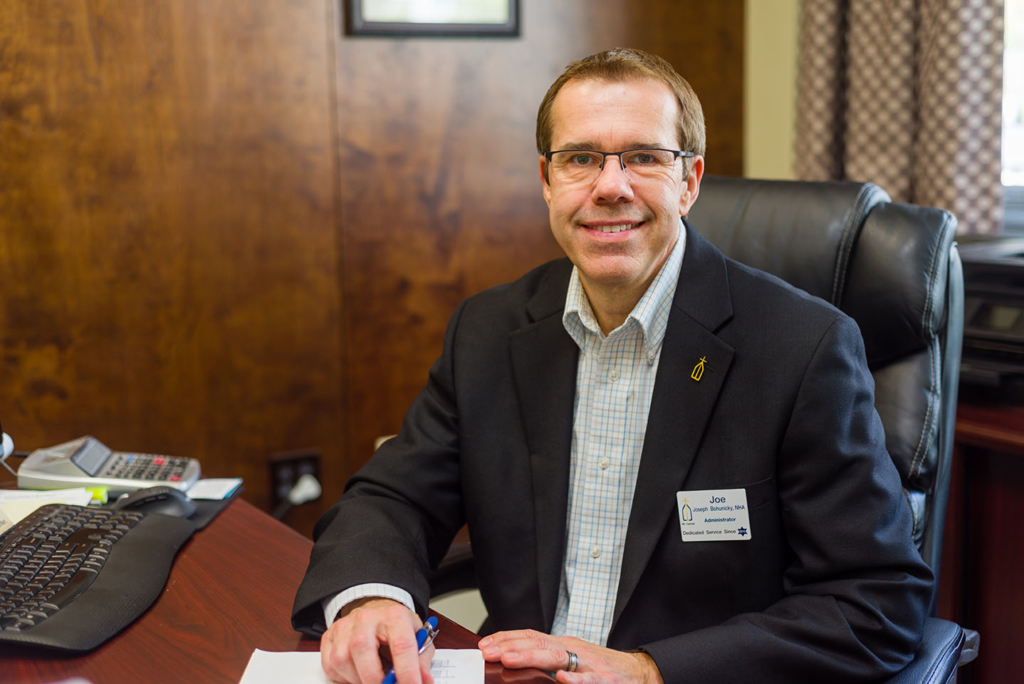 On behalf of my staff, welcome to Mt. Carmel Rehabilitation and Nursing Center in Manchester, New Hampshire.
If you're reading this, chances are you're considering short-term or long-term care for yourself, a beloved family member or a close friend. This can understandably be one of the most difficult, yet important, decisions you'll ever make.
Providing 24/7 care requires trust. Trust must be continually earned, especially if the well-being of yourself or a loved one is dependent on it. I have been the administrator here at Mt. Carmel for more than 10 years and can assure you that safety, compassion and comfort are at the cornerstone of everything we do for those we care for. We continually strive to earn your trust every single day.
I look back to when one of our current residents, Alice, first came through our doors two years ago. She was recovering from a broken hip after a fall at home and required short-term rehabilitation care after a lengthy hospital stay. She was visibly closed off and anxious, but after sitting down with her daughter Billie, I knew why. She missed her one-story home in Manchester – to her, that was her happy place.
Billie was a bit uneasy, too. We had an open and candid conversation – how would her mother respond to a new and unfamiliar environment? How would she keep her routines of waking up to read the newspaper, having her cup of coffee and watching her favorite morning show? Would her mother be happy and interact with those around her? Would she have another fall? And the most important question – could she trust us to provide the best care possible for her mother? Those were perfectly normal feelings.
We were excited that Alice and Billie chose our community. Although she was a bit reserved and withdrawn for the first couple of days, things quickly changed. I'll always remember that one October morning when I walked by her room. She was up in her bed with the morning Union Leader in front of her, enjoying a cup of coffee. When she saw me, a smile beamed across her face and she had a question for me: "How did you know I liked three sugars in my coffee?"
We knew because Mt. Carmel is based on person-centered care. We take the time to understand our resident's expectations when searching for a facility like ours, what they like and don't like, their routines and medical and personal background information. From there, we design a care plan tailored to these unique wishes and customize it as future needs develop.
Everyone is treated with the highest level of respect, integrity and compassion, and they are cared for like they are our own family members. There was not a day that went by that Alice didn't get her morning paper, watch her favorite television show or have her morning cup of coffee – with three sugars in it.
After nearly two months in our short-term rehab program, she and Billie came to the bittersweet decision: her health, emotional state and mental capacity would best be served here at Mt. Carmel as a long-term care resident. Returning to her house, with no one continually watching over her, was too risky.
Mt. Carmel is now her new happy place. She loves playing Bingo, board games and the piano with fellow residents; enjoys her special "tea time" with Billie every Saturday morning in our Courtyard Café; and even started a knitting club!
Whether someone is here for short-term skilled nursing rehab, long-term care or memory care, we want every resident to feel at home and keep them engaged in life, just like Alice is. That is our promise to you here at Mt. Carmel.
We earned Alice's trust and Billie's trust, and hope we can do the same for you.
I look forward to meeting you. If you are interested in a personal tour, I'm always a quick email or phone call away.
Warm regards,
Joe Bohunicky, NHA, MBA
(603) 935-4600